Mobishop Zen Cart Responsive Template
Zen Cart Themes from 12leaves.com

Features
(
?
)
The feature allows to get the template settings the same as on the demo site by one click in the admin area. The products are not provided with the template package.
Blue, Green, Orange and Pink
(
?
)
Responsive themes are produced in a specific way which includes special styles for any device resolution, including mobile phones, tablets and desktop computers.
(
?
)
Fully managed through the CS-Cart admin area with default slideshow banner functionality, Instructions included.
(
?
)
The feature allows you to enable the category menu at the top. The categories appear automatically when you create them in the admin area. The menu appears instead of the "Home, New Products, Specials, etc." links at the top navigation. You can turn it on/off via admin area.
(
?
)
Appears if the store has more than one language or currency.
(
?
)
Ability to add other static or GIF animated banners to home page. Managed via admin "Banner Manager" section.
(
?
)
You are allowed to remove the "Designed by pixemus.com" link from the bottom area.
(
?
)
No core files are changed, all default features of the e-commerce software are available for the template.
Dynamic vertical 6-level subcategory dropdown menu in the category side box
Description
View Demo
Responsive Zen Cart theme design allows you to get a well-adaptive template appearance for any devices, including a wide range of tablets and mobile phones. The template does not require a separate installation of Zen Cart or any mobile theme to look adapted for tablets and mobile devices, only CSS style files are used for this purpose. Responsive touchable sideshow and conveyor/carousel banners automatically re-sizes to device screen. Fluid columnar product displaying automatically set a numbers of the columns via CSS styles, so that it gives the template a professional look on any mobile and tablet devices.
You can easily set 3 or 2 column layout via Zen Cart admin area. All Zen Cart admin features are stayed untouched, so you can change all the elements after the template installation by the same way as you can do it via default Zen Cart admin area. Only one setting parameter is disabled for the theme in the admin area (column width) due to the fact the responsive feature requires a special layout, so we created a new layout that is based on "div" HTML tag, not table. Columns width is defined automatically when you change 3 or 2 column layout.
You can easily set 3 or 2 column layout via Zen Cart admin area and product columns will stretch automatically. Set the number of the product columns in Zen Cart admin area according to your needs. Categories Dropdown menu feature allows to get the second level subcategory items directly. Shopping cart dropdown menu makes easier and faster access to the purchases you made. Multilanguage is supported. You can easily change the language or currency via dropdown menu.
How to Provide Customer Support and Increase Your Sales?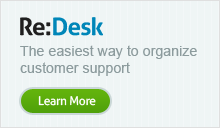 Re:Desk Customer Help Desk System allows to track all your customers conversations of your online store in one place. It is a flexible tool for owners of ecommerce stores and real shops to provide a customer support with ease. Support agents, departments, emails converted to tickets, filters - all these make it much easier to provide the support efficiently.
Tags
Customers Who Bought This Item Also Bought