Crista Free osCommerce Template
Features
Black, Blue, Pink, Violet
(
?
)
Fully managed through the CS-Cart admin area with default slideshow banner functionality, Instructions included.
(
?
)
Ability to add other static or GIF animated banners to home page. Managed via admin "Banner Manager" section.
(
?
)
No core files are changed, all default features of the e-commerce software are available for the template.
Description
View Demo
Downloading the osCommerce template you will get 3 column or 2 column (or without columns) online store with professional appearance. All the default osCommerce features and core files are untouched for the template. All the necessary instructions are included to the readme file of the template package.
Installation Instructions
1. Backup all the files of your store;
2. Unpack the Template Package to the directory where your osCommerce is installed;
3. Go to your store location link in your browser;
4. Enjoy.

Tags
See Also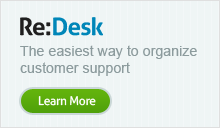 Re:Desk Customer Service Software allows to track all your customers conversations of your online store in one place. It is a flexible tool for owners of ecommerce stores and real shops to provide a customer support with ease. Support agents, departments, emails converted to tickets, filters - all these make it much easier to provide the support efficiently.
Customers Who Bought This Item Also Bought