Crista Free OpenCart Template
Attachments
CristaOpenCart-ThemePackage (CristaFreeTemplateSet_Opencart.zip, 701 Kb) [Download]
Features
(
?
)
Fully managed through the CS-Cart admin area with default slideshow banner functionality, Instructions included.
(
?
)
Ability to add other static or GIF animated banners to home page. Managed via admin "Banner Manager" section.
(
?
)
No core files are changed, all default features of the e-commerce software are available for the template.
Description
Download Now free Zen Cart template without Brand Free option. Downloading the Template you agree to the entire downloading terms.
4 in 1 color variations (Gray, Blue, Violet, Pink)
CSS Theme
User friendly usability
Home page banner, conveyor banner
Flexibility (no changes in default OpenCart features and settings)
No affection to core functionality
No changes in default database scheme
File with the instructions - removal of the bottom link, home page banner installation, etc. (only for brand free option purchased)
Easy to install
Installation notes
Warning:
Backup your website files and database before the installation.
Backup all the files and database.
Unpack the Template Set package on your local computer.
Upload the unpacked folders and files to your OpenCart installation via any FTP client.
Log in to the admin area.
Go to "System -> Settings" section and click to the "Edit" link.
Click on the "Store" tab and choose "Crista" value in the "Template" selectbox.
Click on the "Save" button. The template will be installed.
Click on the "Image" tab and click the "Store logo" image. There you will be able to upload your own logo or default Crista template logo.
You can reorder the sidboxes via "Extensions -> Modules" sections of the admin area.
See Also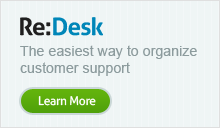 Re:Desk Customer Service Software allows to track all your customers conversations of your online store in one place. It is a flexible tool for owners of ecommerce stores and real shops to provide a customer support with ease. Support agents, departments, emails converted to tickets, filters - all these make it much easier to provide the support efficiently.
Tags
Customers Who Bought This Item Also Bought