Pure Free X-Cart Template
X-Cart Templates from 12leaves.com

Attachments
PureBlackTemplate_XCart.zip (purefree_set_xcart.zip, 152 Kb) [Download]
Features
(
?
)
Appears if the store has more than one language or currency.
(
?
)
No core files are changed, all default features of the e-commerce software are available for the template.
Description
View Demo
Installation notes
Warning:
Backup your website files and database before the installation.
Backup all the files and database.
Unpack the template package (zip file) on your local computer.
Upload the files and folders to the root directory of your X-Cart installation (for example: www.yourdomain.com/your_xcart_store/).
Log in to the admin area.
Log in to the admin area.
Go to the "Settings" -> "General Settings" -> "Appearance" page.
Click on the "Select skin to use" selectbox and select the "Pure Black" value.
Click on the "Apply Changes" button at the bottom.
See Also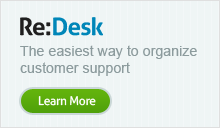 Re:Desk Customer Service Software allows to track all your customers conversations of your online store in one place. It is a flexible tool for owners of ecommerce stores and real shops to provide a customer support with ease. Support agents, departments, emails converted to tickets, filters - all these make it much easier to provide the support efficiently.
Tags
Customers Who Bought This Item Also Bought