TidyGreen Free osCommerce Template
Features
(
?
)
Fully managed through the CS-Cart admin area with default slideshow banner functionality, Instructions included.
(
?
)
Ability to add other static or GIF animated banners to home page. Managed via admin "Banner Manager" section.
(
?
)
No core files are changed, all default features of the e-commerce software are available for the template.
Description
TidyGreen osCommerce template designed for osCommerce online merchant engine version 2.2 rc2. Only CSS changes were made. Give your shopping cart a new professional look with our Free osCommerce Templates from Tidy collection!
See Also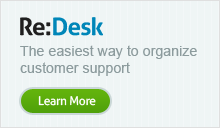 Re:Desk Customer Service Software allows to track all your customers conversations of your online store in one place. It is a flexible tool for owners of ecommerce stores and real shops to provide a customer support with ease. Support agents, departments, emails converted to tickets, filters - all these make it much easier to provide the support efficiently.
Tags
Customers Who Bought This Item Also Bought